Removing the sargassum from the beach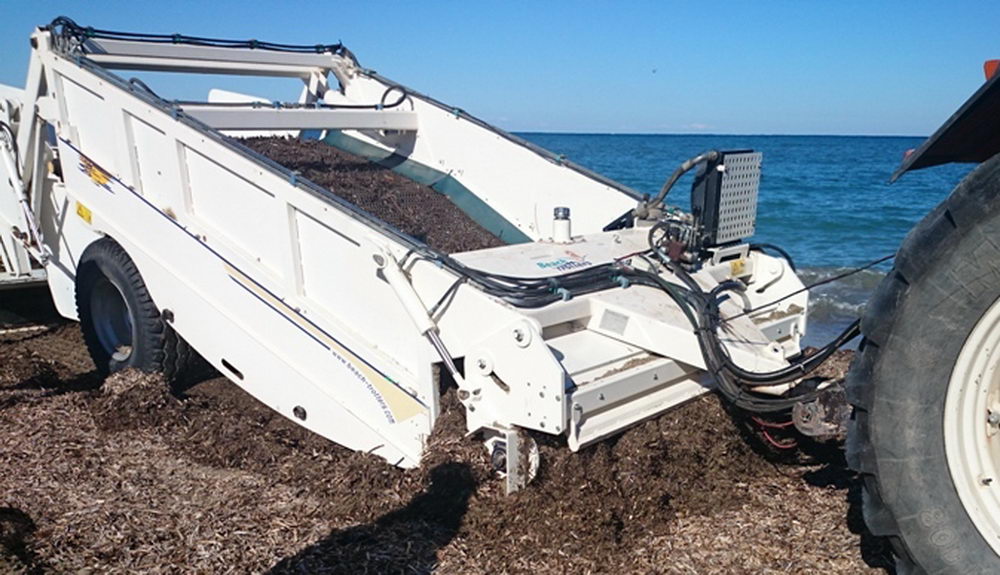 The best way to remove and lift the sargassum from the beach and leave it perfectly clean is to use a system that ensures that only pick-up the sargassum without removing the sand.
Among the many tests performed, the system of sweep surface, either manually with brooms of gardening or either with machines as sweepers, or rakers it has been shown that it is not, as you only get to erode the beach taking a huge amount of sand stuck to it along with sargassum.
Another system being used is to remove the sargssum with a crane or a shovel in a tractor, this system may be used on rare occasions when the sargassum is accumulate in large quantity in the shore line above 25 cm of sand surface. If you use this system; the driver of the tractor has to have much expertise and tact, in order to avoid nailing the shovel in the sand. Therefore this system is a bad solution, and in some cases are forbidden
The "Scarbat" is a new beach machine for picking up the sargassum
The best method is the one that protects the surface of the beach and remove the sargassum without taking off the sand. This method is used exclusively by the machine "Scarbat", that combine three actions at the same time : removing – hitting – screening.
It is a completely new method to date. This is only possible with the machines created by Beach Trotters s.l., a Spanish company. The "Scarbat" is a new beach machine for picking up the sargassum. The "Scarbat" makes that sargassum is lifted by the front spikes, it is, immediately, throwing it against a hard surface, where it bounces and falls on the conveyor belt that vibrates and separates the sand fron the sargassum, returning the sand to the beach. Finally the sargassum is deposited in the hopper back and transported and discharged by the machine to a tow, a truck or at the place of destination or treatment
This ensures that sargassum is lifted from the surface of the beach of environmentally correct way.
For a detailed information on the characteristics of the Scarbat; access to the direct link: http://en.unicorn-beachcleaners.com/beachcleaner-scarbat-pid-27